fucking cepe!!!!!!!!!!!!!!!!!!!!!!1
I HATE U, JONAS BROTHERS!!!!!!!!!!!!!!!!!!
U'VE CRUSHED ME FUCKING DREAM!!!
you REALLLLLYYYYYYYYYYYYY did!!!!!!!!!!!!!!
i was loooooking forward to that piiiiping koncert SOOO much!! SOO SOO much!!!
and now it is
"
CANCELED!!!!!
"

i cant believe it!! im hoping soo much, at least that they r still searching fo a new date for it,
otherwise... otherwise... i reaally really dont know what to do!.. im
CRUSHED!!!

I DONT KNOW WHAT TO DO!!... i was looking forward to it sooo much..  and now... theywe canceled...

DAMMIT!!..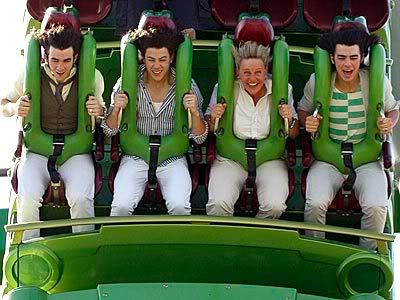 NO MORE OF THIS!!!........
---
yaaaaaaaaaaaaaaaaaaaaay!!
omgomgomgomgomgogmgomgogmogm!
this was SOO fun!! :D:D:d
we were on ung08!!
me and nicole were preforming oon stage there!! :D
it was just soooooo much fun, and i got to know hannele,
shes really cool, and SHE can DANCE!! :O
im gonna load the vif a bit later, cya ;)

<333
---
so..so.. MUCH!!
HEEEEEEEEEEEEEEY!!
havent written in AGES!!

have sooooooooooo much to tell!!! :D
1,  WE'RE PREFORMING ON UNG08 2MORROW!!!
2, you know ive been drawing, ive drawn a few ppl and things, and it turned out pretty good..
3, there were 3 guys to talk to in lithuania, and all of them were soo nice ;)*
     a) 'S' we sat and talked like 4 hours or more at the lake,
          and he was soo funny,
     b) 'V' he lived beside my m8 and he vas shy, but cute :p
     c) 'M' he lived beside 's' and he always talked to us, as we were going swimming or something :p
and there were soo many more things to say, llike:
we were sleeping at paulas place, only we 3, and it was so.. so.. scary... we heard some voices, and beforee that, paule turned off the light, and when we came back, it was back on.. but what ever, i just wanna show you some pics :)


and then i also was with sally, derin, hannah, ebba, when i got home, and of coure big nic :p
me and nic were looking at guitars, cuz we bough want to have new ones, (she doesint have one yet )
and we found a soo funny one, it was like whole F*cked up xD


---